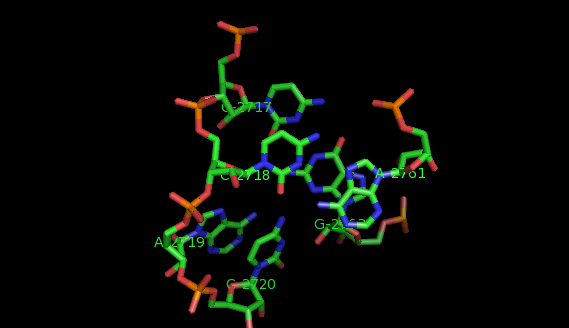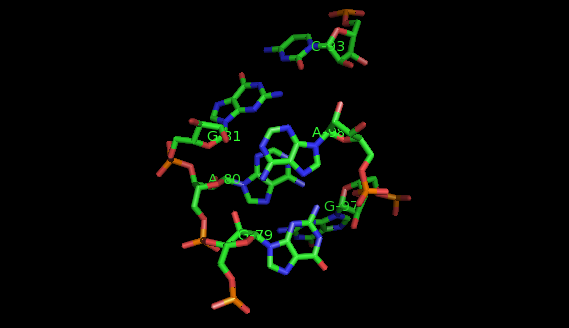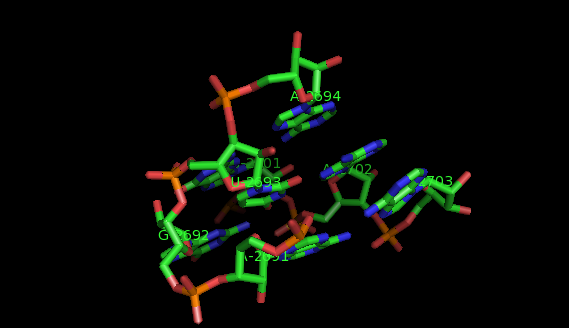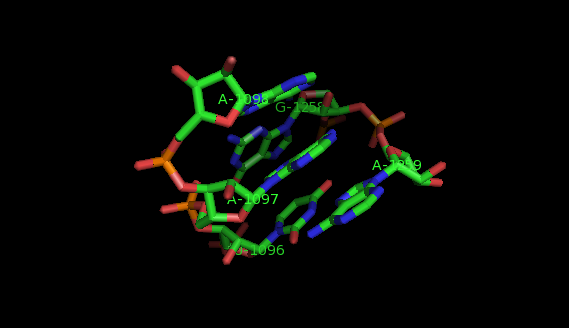 INTERACTION MOTIFS
In the following, we assume that you have downloaded the Rna3Dmotif binaries archive and uncompressed it according to the instructions given in the DOWNLOAD section.
Listing the interaction motifs
Interaction motifs link one secondary structure element (internal, terminal, junction loop) to one or more helices and/or other secondary structure elements. The program designed to extract them is called
Listim
. It produces a Listing.
For example, suppose that you want to build the Listings of two structures:
- 23S rRNA of
H. marismortui
(PDB: 1S72, Chain: 0),
- Group II intron (PDB:3EOH, Chain:A).
After executing the
Listim
program, you get
this
result (see the User's Help for the notations used).
Identifying recurrent interaction motifs
To identify recurrent interaction motifs present in two RNA chains, say 23S rRNA of
H. marismortui
(PDB: 1S72, Chain: 0) and a Group II intron (PDB:3EOH, Chain:A) you execute the
Simintmot
program. You get
this
spreadsheet file. You sort it by the last column (i.e. the non-canonic labels of the LJCNS) to get the clusters of potential recurrent motifs. For example, in our sorted file,
these lines
give the occurrences of a potential recurrent motif with the non-canonical labels "ffg". These occurrences must be superposed in 3D to make sure that they are biologically valid. In our example, 5 occurrences were successfully superposed. The motif in question is the A-minor motif (3 occurrences in 23S rRNA and 2 occurrence in GII intron).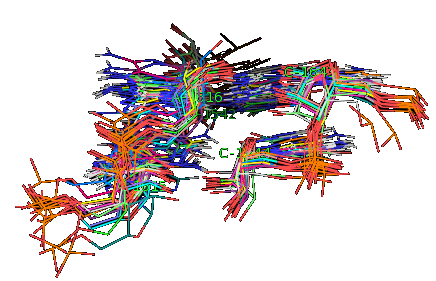 In addition, the
Simintmot
program outputs the detailed mappings of all the pairwise LJCNS of the two chains. This information is aimed to infer the consensus structure (see figure below) and the
sequence signature
of the cluster at hand.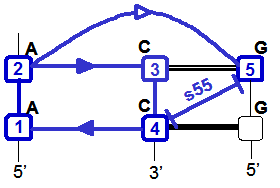 Comparing two interaction motifs
It may be of interest for the user to compare two specific interaction motifs. In this case, you invoke the
Ljcns
program which inputs two identifiers of interaction motifs and outputs, if it exists, their largest joint common non-canonical substructure (LJCNS) in the form of a mapping of the bases and basepairs. This program is useful to highlight similarities between two interaction motifs. For example,
this
mapping displays the structural similarities between an interaction motif in a ribonuclease P made of Sugar/Sugar interactions and an A-minor motif in 23S rRNA of
H. marismortui
.
---